Dear reader,
See some of you tonight at Jom's launch party!
You may know that the party venue, the distinctive blue bungalow on 42 Waterloo Street, was probably built in the late 1800s, a time when the area was "the foremost Eurasian enclave" in Singapore, according to Singapore Eurasians: Memories of Hopes.
Until 1969, it served as a home for a series of illustrious residents: first recorded were the de Souzas; then in 1915 A.F. Cornelius of the Singapore Municipality; in 1951, a "Mr Martin" who wanted to sell his Chevrolet DeLuxe Sedan for S$6,500; and in 1953, Sally Solomon, who in The Straits Times' "Pick the Brides" contest, was part of a 10-way tie—proof, if any were needed, that Singaporeans have long been diplomatic. (Or indecisive?)
By the 1960s, there were some 50 tenants living at 42 Waterloo Street, all sharing one bathroom. Don't worry: tonight there'll be two for 90.
In 1969, it was converted into a commercial space. (Read more about its history here and here.) Today it houses Centre 42, a non-profit dedicated to the documentation and promotion of Singapore theatre. We thank them again for their support of Jom's party, and would like to do a shoutout for their fundraiser!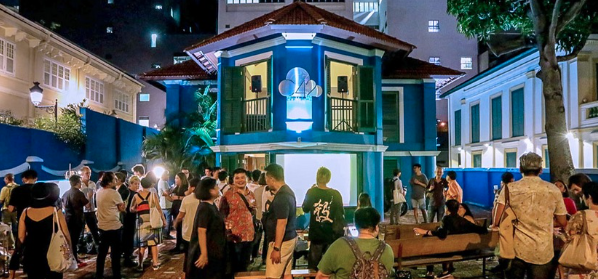 Their Small Ways to 42k campaign aims to raise S$42,000 by March 2023 to develop Singapore's theatre ecosystem. You can make a donation here and choose the programmes and initiatives you want to contribute to.
It's important to not only support the prominent and glitzy theatre companies in Singapore, but also the organisations motoring around behind-the-scenes to help ensure meaningful and informed theatre-making.
Our essay this week, "Hong Lim Park: a people's history", takes you back to that same late 1800s period in colonial Singapore, when the Straits Chinese Recreation Club (SCRC), "the first non-European, non-Eurasian club" was moved to what was then called Hong Lim Green, named after Cheang Hong Lim, an opium farmer. Singapore's drug lords lived the high life.
"Cheang organised yacht soirees for local luminaries, threw lavish garden parties and, in 1878, spent vast sums on Chinese New Year fireworks, which drew some of the biggest crowds ever seen in Singapore," writes Abhishek Mehrotra, in his second essay for Jom.
Cheang later fell out of favour with the British after he "embarked on a vast conspiracy to smuggle opium from around the region into Singapore, so as to drive down the local prices and force the current licence holder into losses." The SCRC's relocation there signified his redemption of sorts.
In 1959, Toh Chin Chye, chairman of the (then opposition) People's Action Party, "stood up on the makeshift wooden dais formed by joining the backs of two open lorries" and made a fiery speech that would help the party grab power for the first time, from when it hasn't looked back.
By the 1970s Hong Lim Park had become a haunt for gay men. In recent years, its signature event has been Pink Dot. The last event I attended there was an anti-death penalty rally, earlier this year, and as the multitude of activist groups chanted in unison, one could feel the throbbing energy of some contemporary subaltern.
Over the decades, then, Hong Lim Park has continued to function as a refuge for the dispossessed, a site of redemption, a curious border territory on the edge of the glitzy city. This week, despite the many misgivings about parliamentary proceedings, we celebrate the repeal of S377A, the colonial-era law that criminalises sex between men.
Away from the speeches and the streamers, Abhishek reminds us of the importance of place, whether Hong Lim Park, 42 Waterloo Street, or indeed, the whole city we call "home".
As we raise a glass tonight to Jom—and to all of you who've supported us on this journey—we'll try and remember that.
Best wishes,
Sudhir Vadaketh
Editor-in-chief, Jom
---
If you've enjoyed our newsletter, please scroll to the bottom of this page to sign up to receive them direct in your inbox.