Dear reader,
It's Charmaine here, bidding hello this week.
2023 still feels like it's in the future, yet here we are, already in the middle of January. I'm writing this on a wintry afternoon in Berlin, my second home. It might seem like a bit of an irony for one to be so involved with matters in Singapore while so far away, but the distance opens up a space for me to love her better. I suspect that many who live elsewhere feel similarly.
This week, we've published an essay by Thiyaghessan Poongundranar on the proliferation of Bui Bui Forever Alone (BBFA) culture on HardwareZone forums, specifically on the infamous Eat Drink Man Woman page. It's a specific subculture with its own lexicon that requires some Googling to understand, but as Thiyaghessan writes, "BBFAs are individuals who are cursed to be 'forever alone' due to their inherently unattractive nature. Their bodies are "bui bui", chubby and out of shape. This description conjures up images of the archetypal asocial nice guy, relegated to the back of the room at parties, condemned to forever linger in the shadow of his more attractive counterparts."
On HardwareZone, BBFAs make up a self-regulated community centred on expressions of loneliness, lust, misogyny, and the quest for worth. Thiyaghessen uses computational analysis to sieve through elements of BBFA culture—What does being a BBFA truly entail? How does it compare to incel culture? What does this phenomenon mean for wider society?
For better or worse (probably mostly worse), this toxic online culture has been on my mind, especially over the last year or so. Outside of my work at Jom, I have a practice as an artist; my current project, YOUNG BODY, explores cyberfeminism and agency through new media and performance. Its genesis is my time as a 12-year-old tween actor on "We are R.E.M", a Kids Central show in the early 2000s. I played E-Ching, the 'E' in the title. As much as it was a fun, after-school activity, my memories of that time are hampered by the harrowing experience of reading online comments about my preteen body, precisely on forums such as these.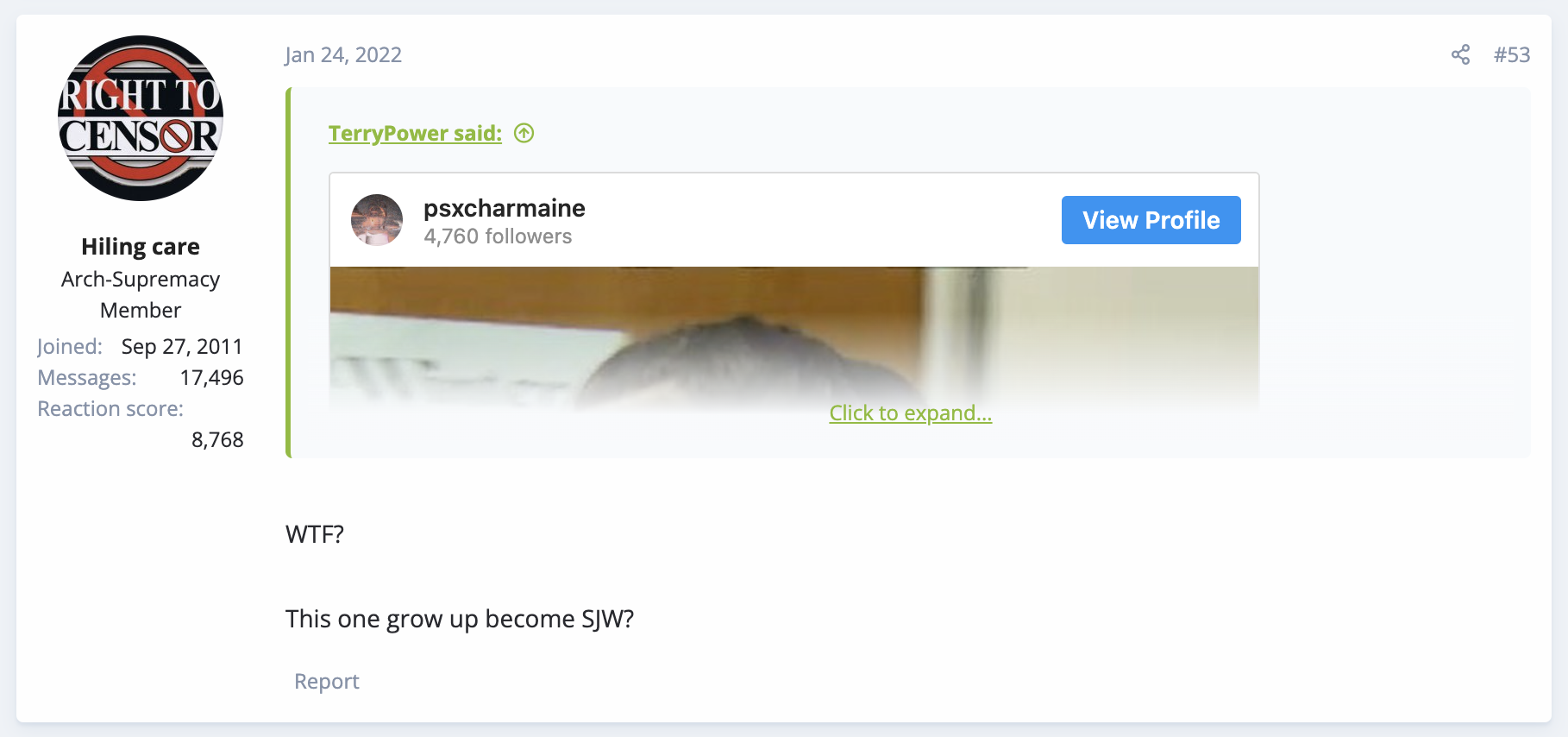 In a strange, full-circle moment, last January, someone linked one of my Instagram posts about YOUNG BODY on HardwareZone. Twenty years after being emotionally pummelled by these comments, my work and these trolls are beginning to have a conversation in the oddest of feedback loops.
I'm not sure if the commenters are BBFAs or not, but there exists a similar entitlement to other people's bodies. The contours of identity are rarely defined, after all. But it is clear that BBFAs are shaped by the politics of desire, and feed off the freedom of anonymity. While it is my guess that the average Jom reader would wince in disgust at such comments, I'd also question to what extent we are all complicit in allowing such misogyny to fester, and how we can express desire with respect instead of degradation.
For the essay's visuals, I commissioned Chok Si Xuan, an artist who works with coding and cybernetics (full disclosure: she is one of my collaborators in YOUNG BODY). Using found elements such as comments and filtered profile pictures, she has created eerie images befitting of the themes in Thiyaghessan's essay. I thought: who better to approach than someone who has accompanied me in contemplating the very real harms of such discourse?
It's honestly been quite challenging to engage so deeply with this segment of society. In many ways, I could say that the values that BBFAs espouse are diametrically opposed to Jom's, and certainly to mine. After all, YOUNG BODY was created out of this desire for agency, restitution, and hope—not only for myself, but for anyone who might have felt caught in the throes of such technological violence. As with many efforts swimming against the tide, every day, regardless of how strongly my internal compass protests, a new comment is made. It's something we shouldn't ignore. For better or worse.
E-Ching forever.
Your Jomrade,
Charmaine Poh
Co-founder & head of visual culture and media, Jom
p.s. HardwareZone's owner, SPH Media Trust, which doesn't do much to moderate such comments, is mentioned heavily in this edition of Singapore This Week, for some other shoddy behaviour.
---
If you've enjoyed our newsletter, please scroll to the bottom of this page to sign up to receive them direct in your inbox.